· By Paul Lumley
15 Cheerful Easter Crafts That Kids Will Totally Love
Feature Photo by sheri silver on Unsplash
From chic decorations to simple classroom projects, these ideas will get your space ready for spring.
Easter is a peak time for crafts. Of course, there's one craft that almost every family will participate in: decorating Easter eggs. But the fun doesn't have to stop there. You can also create all sorts of colorful flowers, welcoming wreaths, and sweet bunnies and chicks. Since it's your first chance to decorate for spring, you might as well go all out.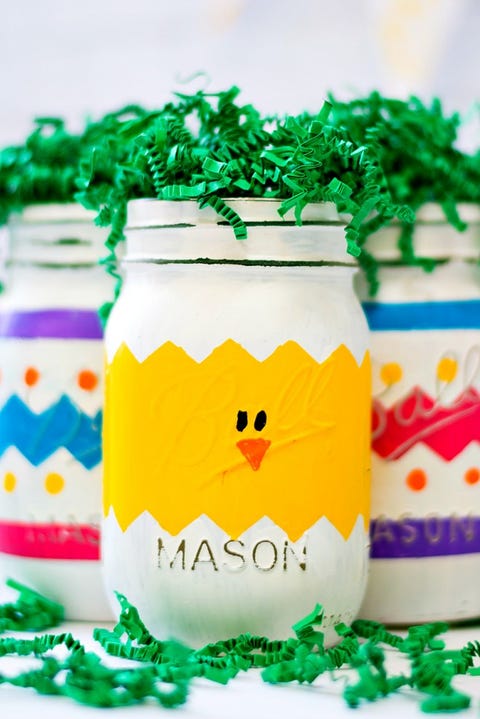 Peeps Mason Jar
Have the kids gather empty mason jars and their favorite vibrant paint colors to create these cute Peeps.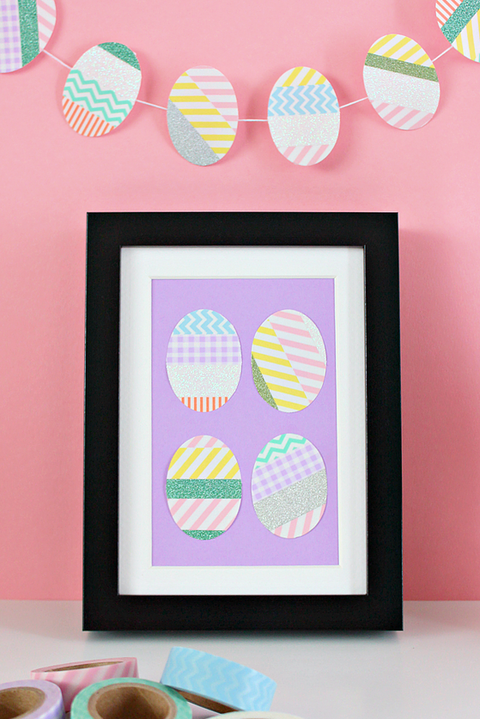 Washi Tape Easter Egg Picture Frame
Colorful washi tape is a sure way for your kids to create fun designs that are mess-free. Simply put tape on white paper and cut out egg shapes. A frame will make this craft ever-lasting.
Get the tutorial from White House Crafts »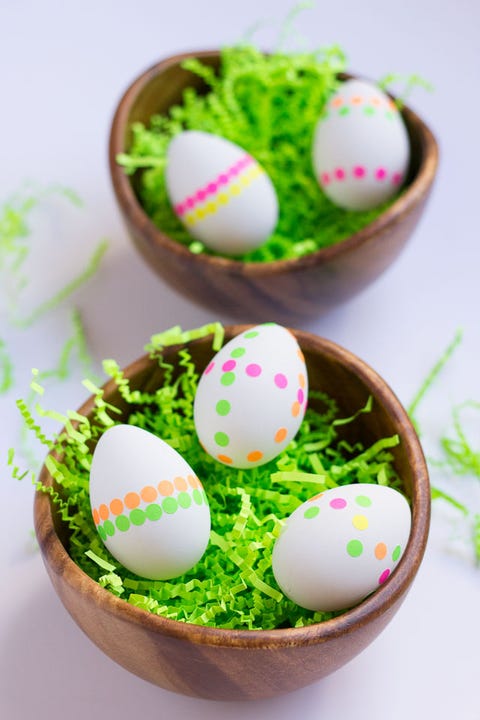 DIY Neon Polka Dot Sticker Easter Eggs
Decorating Easter eggs has never been easier. All you'll need is a dozen eggs, neon polka dot stickers, and your little one's creative imagination.

Easter Terrariums
These sweet crafts are extra fun because you can fill them with whatever you want — plus, you can use them as a centerpiece when you're done.
Get the tutorial at Design Improvised »

Chick Bookmark
An adorable bookmark just might inspire you to zip through your spring reading list even faster.
Get the tutorial at Hey Let's Make Stuff »

Embroidery Hoop Bunny
Make some Easter wall decor with two embroidery hoops and colorful fabric. Don't forgot a cotton ball for a fluffy tail.
Get the tutorial at Design Improvised »

Easter Egg Bouquet
Dye eggs in varying shades of pink — or whichever color you choose — and place them in a large vase to create an ombre effect. Add flowers for a seriously chic centerpiece.


Egg Carton Spring Chicks
Recycling takes on a new, adorable meaning with these chicks. After making a delicious Easter brunch, save the empty egg cartons for a fun Easter craft for kids.
Get the tutorial from Typically Simple »

Threaded Grapevine Wreath
Spice up an ordinary grapevine wreath by wrapping colorful embroidery thread around branch sections. Add movement to this door decoration with suspended wooden eggs in the center — hot-glue thread to the backs and then tie in place.

DIY Paper Flowers
Fold cupcake liners in half and cut out petal and fringe shapes. Fold a piece of floral wire in half and twist around faux flower stamens. Poke the wire through the center of three to four paper liners. Wrap floral tape around the base of the liners and continue to wrap down the "stem."

DIY Bunny Party Hats
Hop into the Easter spirit with these bunny party hats that are super easy to make and chic enough for adults to wear too.
Get the tutorial from The House that Lars Built »

Chick & Lamb Easter Craft
Start off with a yellow plate for a feathery chick or a white plate for a dreamy lamb. It's as easy as that!
Get the tutorial from Vicky Barone »

Paper Bunny Fruit Bags
Make apples (or oranges!) more fun with paper bags cut into rabbit ears. You'll also need a little bit of washi tape and ribbon.

Easter Bunny Cups and Bait
These Easter bunny cups hold the perfect snack post-egg hunt. The sweet and salty popcorn will have your young one asking for more.
Get the tutorial from Giggles Galore »

Easter Egg Buddies
How sweet are these serene expressions? Using a fine-tip marker, draw on faces (eyelashes are everything, here). For the ears, create two loops with thin wire and hot-glue or tape to the back. Alternatively, color the centers of half-sized popsicle sticks with a pink marker and attach. To make the miniature flower crown, wrap a sprig of baby's breath to a wire circle and admire its beauty.
Like this article? Sign up to our newsletter to get more delivered straight to your inbox
_____________